A New Year begins: Nivethan's Nurture Merit Program 2019-20 starts!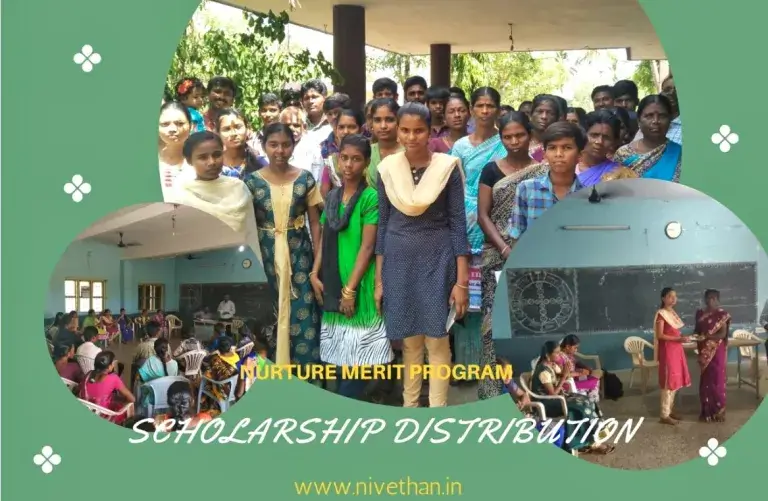 A New Year begins: Nivethan's Nurture Merit Program 2019-20 starts!
"She takes tablets regularly," said Vanishree (name changed) talking about her younger sister, Jayashree (name changed). 'Taking tablets' means Jayashree is HIV+. She is studying in class VI, while her sister Vanishree who is studying is class XI. It was during the house visit to screen and select deserving the field visit to her house.
They lost their mother when Jayashree was just 4 months old to a complication resulting out of HIV/AIDS. Her father is mute doesn't work and takes care of household chores whichever he can. The entire family is taken care of by Vanishree's periyamma (her mother's elder sister) and her husband, despite their own limited financial means.
She wants to become a Teacher.
Vanishree is one of the 20 students who got selected for Nurture Merit Program run by Nivethan Trust. Around INR 60,000 worth of scholarship was distributed to these 20 students, who come from similar such background, on 14th July, 2019 at Sempatti, Dindigul..
It was all possible due to the generous support of donors, volunteers, well-wishers and other supporters for their contribution in various ways.
It was delightful event must say. The Year 2 Nivethan students were there, warmly welcoming their younger friends and dutifully explaining about the program and the experience of undergoing the program in the last year.
Tears were shed and laughter was shared; more importantly we were able to feel the warm and the joy that both the students and their parents felt.
"Thank you for your support. The amount that I received had motivated me to save for Bharathi's college education!" said Tamilselvi's mother, who wasn't previously thinking of sending her daughter to college.
"I will ask my mother to keep this money save to pay for my school and college expenses," said Adhikesavan who was our new Year 1 Nivethan students.
It only motivates us more to serve these students and thank for the opportunity given to contribute in our own small in the lives of these children and their families.
"We want to further guidance and support in our career!" said Meena, one of our Year 2 students. Bharathi and Banu further validated this statement saying that they need information, directions and mentoring on what courses to study, how to prepare for it and hopefully joining a good college.
We couldn't deny their request, albeit our limited capacity to support. However, we shall try and we hope to contribute.
In that regard, we need your support, either in terms of cash/ kind/ any other form – to continue our service and support these students.
You can make a cash donation by clicking the link here.
If you wish to contribute any other way, please write to us at hello@nivethan.in hello@nivethan.in